C6 GT4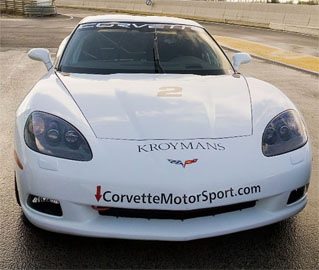 In 2007 Koos Pettinga, Brand Manager Corvette Europe, approached the FIA seeking approval to race the C6 Coupe in the GT4 category. After some study the FIA approved the request by late 2007. 
Corvette Europe shipped a brand new 2008 C6 Z51 six-speed coupe from their showroom to Callaway Competition in Leingarten Germany. In less than six weeks the Callaway team stripped the new car of all non-essential parts including carpet and standard seats. A FIA approved 8 point rollcage was installed along with bigger brakes, center locking wheels and coil over suspension.  

The LS3 6.2 liter 437 hp engine remains stock except for the addition of a dry sump lubrication system. The car is also equipped with an air jack system to insure rapid tire changes.  

In late February 2008 the car debuted at the Miréval, France, test track. Danny van Dongen and FIA GT1 Corvette pilot Mike Hezemans were the first to take the wheel of the new white Callaway. They both had positive things to say about it.
"The Corvette is fast, very fast and quite easy to drive."

After a sucessful debut at Silverstone finishing 2nd, the future looks promising for this new breed of racecar. In the winter of 2008 five specially built EX VIN base C6 coupe Z51's were shipped by GM to Callaway Competition in Germany. The coming years brand new teams will start racing in this new 'gentlemen class' in various GT4 Championships, all aiming at top honours.