C6R Team Mad-Croc Racing (DKR/SRT)
Location: Belgium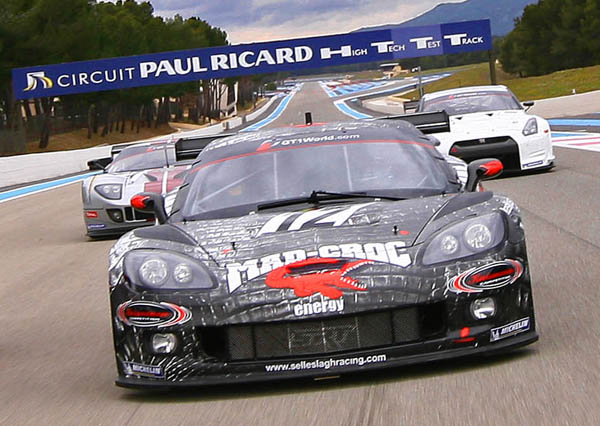 Frame/VIN/Chassis: 002 (#11) | 006 (#12)
Mad-Croc Racing is a new collaboration for 2010 in the GT1 World Championship with veteran C6R teams DKR Engineering and Selleslagh Racing Team SRT. Mad Croc is a privately owned holding company focused on everyday portable energy products for consumers, available as energy drinks, chews or gum.
DKR Engineering began life side by side with PSI team owner Christian Schumacher in 2002 and is currently run by Danny Lallemand Kendy Janclaes. During the 2006 and 2007 season, DKR ran and operated the cars under the PSI Experience name and in 2008, branched off to run the cars under their own name. The team for 2009 will compete in the FFSA and FIA GT season. A New partnership with Sangari of Brazil, saw the name change to "Sangari team Brazil" for the remainder of the FIA GT season and won the last GT1 race for the C6R in the cars old configuration at Paul Ricard in France.
Patrick Selleslagh became the very first customer Corvette GT1 team, after purchasing the 007 C5R chassis in late 2001. SRT has gone on to win several Belcar Championships including 2005, with 5 victories and also in 2006 where they scored another win in the Zolder 24 hours after victory in 2005.

For the 2009 season, SRT campaigned their C6R (chassis 006) in both the FIA GT and FFSA French GT championships. Former PK driver Bert Longin and James Ruffier captured a win at the Algarve circuit in Portugal.

The 2010 GT1 season will see Mad Croc Racing competing with lead drivers Pertti Kuismanen and Corvette Racings Oliver Gavin in the #12 C6R. For the races Oliver will miss, Finnish driver Mika Salo will partner with Kuismanen. #12 drivers for Mad-Croc will be announced soon.

Websites:

DKR-Engineering.lu