C6R GT1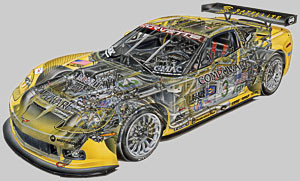 When production of the C5 Corvette ended in 2004, Pratt & Miller introduced a C6 version of their successful racecar. The new racer was based on a version of the C6 called the Z06. The Z06 was scheduled to debut in the summer of 2005. Both cars (the Z06 streetcar and the C6R racer) were unveiled at the Detroit Autoshow in January 2005 to rave reviews. The two new C6R's first appeared at the 2005 12 Hours of Sebring. After the car's debut season with the factory, Pratt & Miller sold the 2005 C6R's to two privately run European teams. The first car (chassis 001) was sold to Toine Hezemans of Carsport GLPK and the second (chassis 002) went to PSI Experience (owned by Philippe Tillie of France). Both cars shared a great debut season where they finished 1st and 2nd overall at Paul Richard in France as well as enduring their first 24 Hour race at Spa in the hands of non- factory teams.
2007 saw an additional C6R (chassis 004) in the hands of Luc Alphand Aventures of France. Because of a change in FIA's racing format from three to two hour races in only two drivers were needed for each race instead of three. Toine Hezemans left GLPK and contracted Phoenix Racing in Germany to run his C6R under the Carsport Holland banner. PSI Experience opted to focus their full attention on the FFSA French GT series and only ran select races in the FIA GT Championship.
After a debut win in Monza for Alphand, the team took part in the 24 Hours of Spa with the help of factory drivers Oliver Gavin and Olivier Beretta. After a long hard fight around the clock twice, it was Carsport Holland that took the overall victory in chassis 001, this was Corvettes first 24-hour victory at Spa.
In 2008, Phoenix Carsport was formed with two cars (chassis 001 and 005) and sponsored by GMAC financing. Luc Alphand purchased chassis 003 and raced it with 004 during the 2008 season. DKR Engineering of Luxembourg continued to race chassis 002 on a race-by-race season. SRT (Selleslagh Racing Team) from Belgium purchased C6R chassis 006 for drivers Christophe Bouchut and Xavier Maassen.
2009 saw the disbanding of Phoenix Carsport and the return of PK Carsport with Hezemans/Kumpen racing chassis 005. Chassis 001 did not compete, while Luc Alphand continued to race 003 and 004. Towards the end of the season, the teams chassis 003 was totaled in a fire leaving only chassis 004 for competition. SRT race 006 and DK Engineering occasionally raced chassis 002.

The 2010 racing season saw the reuniting of Phoenix Racing of Germany and Carsport Holland. Selleslagh Racing Team and DKR Engineering merged to form Mad Croc Racing team. Entering Le Mans, Luc Alphand Aventures campaigned their remaining C6R with a brief entry into the Le Mans Series.
2011, the FIA GT1 World Championship brings back both Selleslagh Racint Team (SRT) and DKR Engineering. SRT will run under the sponsorhip of Exim bank Team China. Both teams will campaign 1 C6R Both, with the hope of bringing in an additional 2 for the season.