NEWS
ADAC: 2012 Preview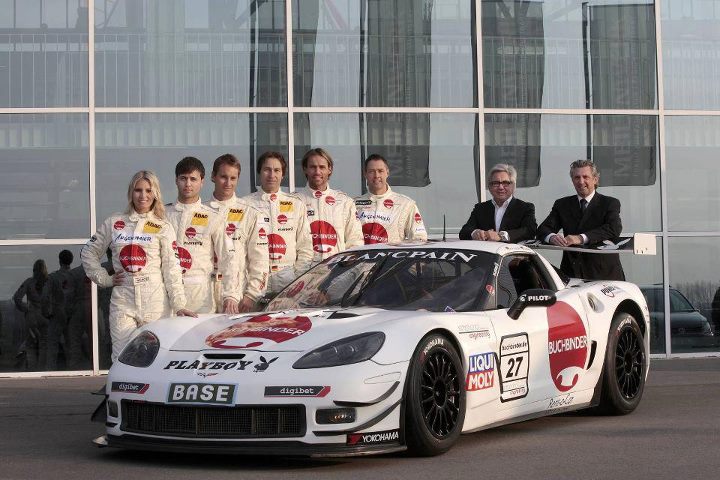 This weekend kicks off the 2012 German ADAC GT Masters season. Former Formula 1 world vice champion and DTM driver Heinz-Harald Frentzen (44, Neuss) is seeing another championship. For 2012 he has teamed up with four-time ADAC GT Masters race winner Andreas Wirth (27, Heidelberg).  Frentzen's goal is to be striving for victories in the "league of super sports car".

The newly formed team of Frentzen / Wirth relies on the competitive Callaway Competition Z06 Corvette. Frentzen's teammate last year, ski jumping legend Sven Hannawald (37, Munich), has decided to use the 2012 season as a "learning year".  He is planning on returning to active racing in 2013.

Frentzen will is teaming with ADAC GT Masters race winner Wirth
Shortly before the season starting ADAC GT Masters on 30 March at the Motorsport Arena Oschersleben Frentzen shared his 2012 racing plans. "The FIA GT Championship has awesome potential, it's really fun. Now we want something more, and attack from strong position," the 157-times Grand Prix participant Frentzen said before his second ADAC GT Masters season."

With his new teammate Frentzen will be driving the more advanced Callaway Corvette. Andreas Wirth has enjoyed success in Formula racing before joining the GT cars. Earlier in his career looked to Motorsports in the United States.  He competed in the Champ Car series, which was the U.S. counterpart to Formula 1.  The 27 year old competed in this series for three years.  Now he and Frentzen will race for this year's title.

Team boss Wöhr also predicts podium. "I am delighted that Heinz-Harald Frentzen will start for us again this year. He has the talent to help us secure another FIA GT Championship title," says Callaway Competition Team Director Ernst Wöhr. "Heinz-Harald has already impressed us last year and I am sure he will be even more impressive this year. We welcome him to our Callaway Competition team.  Andreas Wirth has tested with us in the past and made a very strong impression. Andrew has celebrated in his previous motor sport career with many successes in the U.S. He is an excellent addition to our talented driver line-up. I'm sure that Frentzen, Wirth, Daniel Keilwitz and Diego Alessi will help Callaway Competition Corvettes become a regular visitor to the podium."
Starting in his sixth ADAC GT Masters season, two-time amateur ADAC champion seeks a third championship with a new teammate. Seiler will be driving his revised Callaway Competition Z06R GT3 Corvette in the series.

Siler will share the Corvette driving chores with FIA GT1 World Championship race winner Frank Kechele. An interesting driver lineup will share the second Toni Seiler Racing Corvette. Swiss driver Remo Lips will share the Callaway Competition Corvette with Cologne driver Frank Schmickler.

The 2012 ADAC season will start next weekend at the Motorsport Arena Oschersleben. Toni Seiler reported that he is very is pleased to be working with his new team-mate Frank Kechele: "I had the opportunity to race against Frank in many ADAC GT Masters races and I know how fast he is. I am very pleased that we are competing together this year. Frank has been one of the fastest drivers in the ADAC GT Masters for many years. Last year I was unable to defend my Amateur title so this season I believe I have a better chance at winning my third amateur title. I'm sure that Frank and I will produce good results with the new Callaway Corvette.

"Toni Seiler is a ADAC GT Masters veteran and is known to have a heavy gas foot," says Frank Kechele. "The Callaway Competition Corvette has for many years been the strongest GT3 cars. Ernst Wöhr and his Callaway team spent the winter making this amazing car even better. The new car is very impressive and I am looking forward to a successful season with Toni Seiler. "

The second Toni Seiler Racing Corvette will be shared with a Swiss and German driver. Swiss driver Remo Lips has won a FIA ​​GT Championship and has experience in the Corvette and Porsche. Frank Schmickler says, "I am very pleased to be with this team this year. Toni Seiler says the duo in his second Corvette will make a strong team. "Frank Schmickler is certainly one of the fairest sportsmen you can meet in the paddock, and with his wealth of experience he will be a good teammate for Remo."