NEWS
ADAC: Double pole for Alessi/Keilwitz at the Sachsenring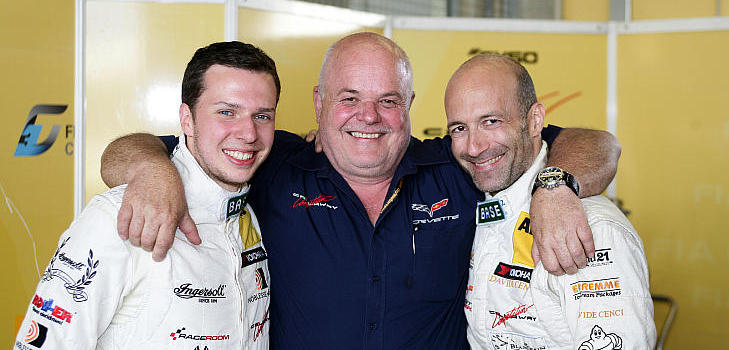 The championship leaders have got their weekend off to a perfect start: Corvette Motorsport drivers Diego Alessi and Daniel Keilwitz are monopolising pole position on both Saturday and Sunday at the Sachsenring. In a prematurely terminated first qualifying session, Alessi effectively had the front grid slot handed to him on a plate; Keilwitz found himself up against tough opposition in the second session but still prevailed in a highly competitive field of 39 vehicles, 23 of which qualified within one second of each other. "It doesn't get much better than this," said a jubilant Keilwitz after taking his third pole in the 'Super Sports Car League'.


Diego Alessi booked his second consecutive pole position, this time without a fight. Qualifying for the first race on Saturday had to be abandoned after only five minutes of the 40 advertised on the programme. This was due to an accident involving Carsten Tilke  in his Audi R8. The son of racetrack architect Hermann Tilke was unhurt, but the barriers were sufficiently damaged to warrant immediate repairs. The ADAC GT Masters Regulations do not provide for a restart in the event of interruption, so the starting line-up for the first race on Saturday was determined by the current championship standings. Consequently, Diego Alessi starts from pole position, sharing the front row with Simon Knap. On Row 2 are reigning ADAC GT Masters champion Dino Lunardi in the BMW ALPINA B6 and Maximilian Götz in the Mercedes-Benz SLS AMG.


There was an exciting contest for top spot in the second qualifying session. Dominik Schwager driving a BMW Z4 put in the first seriously good lap time, but was then displaced by Keilwitz. The BMW driver attacked again, but ultimately had to settle for P2 on the grid, just 0.166 seconds behind the table-topping Corvette. "I went out on track right at the start of qualifying and gently warmed up my tyres," said a well-satisfied Keilwitz. "My first flying lap then went like a dream. Having two poles - one of them a gift and the other well earned - is a great basis for the two races." Second-placed Schwager is not too disappointed with P2 on the grid and is looking forward to the two races: "The standard of competition is very high this weekend, so we weren't expecting to be on the front row. There will definitely be some extremely exciting racing, so the fans can rest assured that they will be getting good value for their money on Saturday and Sunday."
Daniel Keilwitz: "I went straight out at the beginning of the session, warmed up the tyres for two laps and then posted quite a decent lap. The first flying lap was dead right, but I was still worried that something might go wrong. Dominik Schwager and Maxime Martin got very close to me, but I'd done enough. A gift of a pole and a pole won on the track, a perfect foundation for both races."