NEWS
ADAC GT: Alessi & Keilwitz fastest in Second Free Practice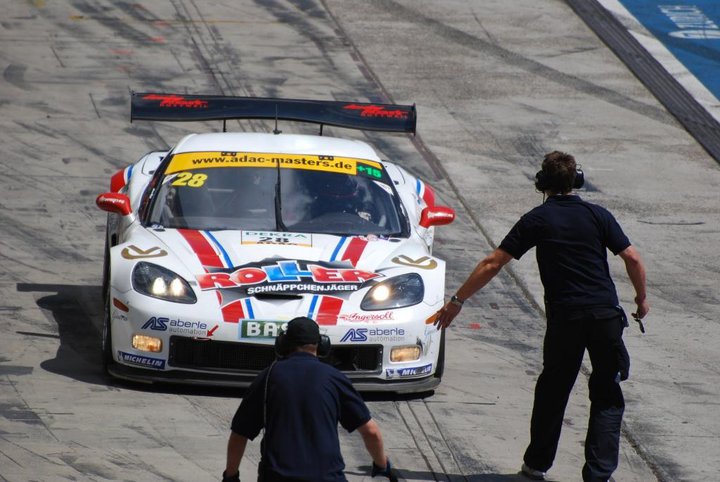 A prime example of the depth of performance was on display in the second free practice session of the ADAC GT Masters in Zandvoort. A total of 14 super sports cars from eight different brands were separated by just one second on Friday afternoon. The fastest time belonged to Diego Alessi and Daniel Keilwitz (Callaway Competition Corvette Z06 GT3), who with a time of 1:39.810 were the only duo in the 40 car strong field to complete a lap time under 100 seconds around the asphalt of Zandvoort.
The second free practice session started with a slightly damp circuit, but dried completely in the first quarter of the 60 minute session. On a dry track, there was then a tight exchange of times as more than ten teams with Mercedes-Benz, BMW, Audi, Corvette, Aston Martin and BMW ALPINA took turns at the top of the timesheets.
Eight minutes before the end of the session Kristian Poulsen and Christoffer Nygaard in the Aston Martin V12 Vantage GT3 were at the top, but were replaced just before the end by 0.239 seconds by Alessi/Keilwitz. Claudia Hürgen/Dominik Schwager (Schubert Motorsport) were third quickest in a BMW Z4 ahead of the Mercedes-Benz SLS AMG GT3 of Sebastian Asch/Maximilian Götz (kfzteile24 MS Racing Team).
Heinz-Harald Frentzen/Andreas Wirth (Callaway Competition Corvette Z06.R GT3) were in sixth place ahead of the second Young Drive AMR Aston Martin of the Stuck brothers Ferdinand and Johannes. Christer Jöns/Christopher Mies (Prosperia uhc speed Audi R8 LMS ultra), Mario Farnbacher/Niclas Kentenich (Farnbacher ESET Racing Ferrari 458 Italia GT3) and local driver Christiaan Frankenhout/Kenneth Heyer (HEICO Motorsport Mercedes SLS AMG GT3) rounded out the Top 10.
The second free practice session was briefly interrupted twice after incidents for the Chevrolet Camaro GT of Max Sandritter/Philip Geipel (YACO Racing powered by Jochen Schweizer) and the Chevrolet Corvette of Remo Lips/Frank Schmickler (Callaway Competition).