NEWS
ADAC GT: Nurburgring Preview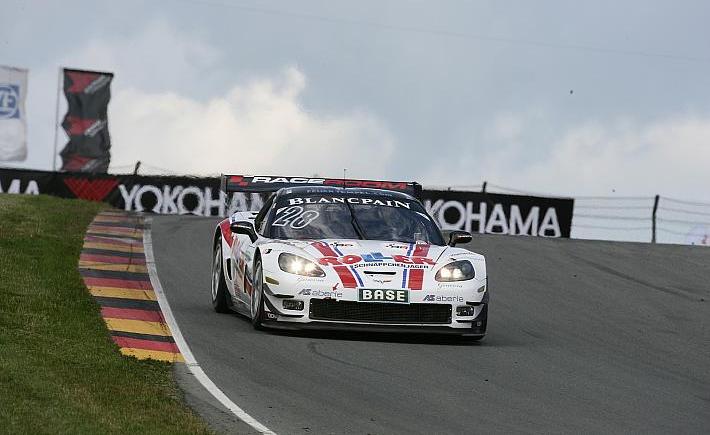 The previous six races in the ADAC GT Masters for Callaway Competition have been almost perfect. Drivers Diego Alessi and Daniel Keilwitz lie first in both the drivers and team standings. At this weekends race in the Eifel, which takes place in front of 200,000 spectators, Callaway has the chance to win the unofficial half-time champion.

The half-time champion has no great significance, but brings motivation. The two races this weeknd will take place on the short version of the Nürburgring. This will not be an easy challenge for Callaway, for the second time in a row, the performance of the Corvette GT3 Z06.R has been slowed. The four of Callaway Corvettes used to compete at the Nürburgring will have the handicap of a higher basis weight by 30 kg.

"The Nurburgring is actually a good track for our Corvette, even if we are driving the shorter GP track this weekend," said Daniel Keilwitz. "However, we also have success ballast on board and must now again take up with a higher base weight. This will certainly not be easy. Our goal is to finish both races, possibly take some points and leave the Nurburgring as 'half-time champion'."

After bad luck in the first six races with Heinz-Harald Frentzen and Andreas Wirth, the german duo will be aiming for their first podium finish in their Callaway Corvette at the "ring". Wirth is the most successful driver of the ADAC GT Masters at the Nurburgring, and is hoping to continue this trend. The former Champcar driver has won four races in the Eifel region, most recently a run in the Truck Grand Prix last year.

"I'm really looking forward to the race at the Nurburgring, because I've won there since 2009, four out of six races," says Wirth. "This year I'm hoping for a good result. After the last race at the Sachsenring Although the weight of our Corvette increased again, but I hope that this does not make a negative impact for us. Together with Heinz-Harald Frentzen at the Nurburgring, I think it is the perfect track for the first podium finish this season."

Callaway Competition will also field Toni Seiler Racings two Corvette Z06.R GT3 for Toni Seiler/Frank Kechele and Remo Lips/Frank Schmickler. The two-time amateur champion Toni Seiler has competed before at the Nurburgring and lies in third place in the amateur standings and had his first win in the Eifel region during his first season.