NEWS
ADAC: Oschersleben Report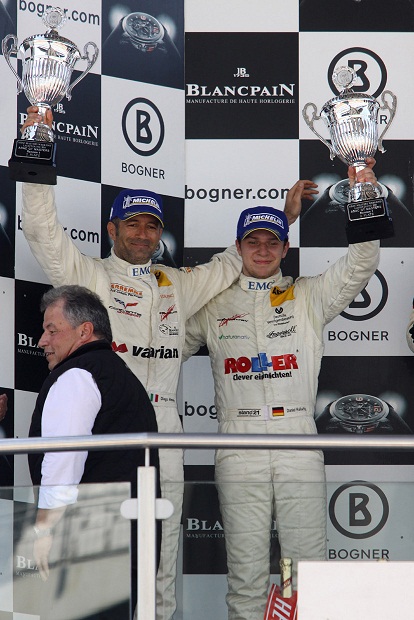 The season got off to an exciting start with two fascinating first races in the 2012 ADAC GT Masters at the Motorsport Arena Oschersleben. During the second race of the League of Super Sports Cars at the season opener, Christian Engelhart in a Porsche 911 and Sebastian Asch in a Mercedes-Benz SLS AMG had an exciting scrap for victory that Engelhart won by a narrow margin for himself and team-mate Nick Tandy (27, GB).

Trailing by just 0.392 seconds, Asch and team-mate Maximilian Götz had to be content with second place. Diego Alessi (40, I)/Daniel Keilwitz (22, Villingen/Callaway) brought their Corvette home in third place. "Our hard work on the car paid off this weekend," said a delighted Christian Engelhart. "We´ve got our Porsche set up just perfectly, and used the new YOKOHAMA tyres to the full, right to the line."
Early tyre gamble decisive factor in race outcome

Sunday´s crowd saw a thrilling second race at the Motorsport Arena Oschersleben that had plenty of action at the start and a nail-biting finish. Saturday´s race winner Maxime Martin (26, Belgium / ALPINA BMW ALPINA B6) led from pole but came under pressure from Corvette driver Frank Kechele (25, Ulm / Callaway Competition). On Lap seven, Kechele´s yellow Corvette disappeared from his rear mirror as the result of electronic problems, but the Belgian immediately came under threat from Carrera Cup champion Nick Tandy in his Porsche.

The British ace tightened the screw and eventually went past on the eleventh lap. After Tandy vacated his seat for Christian Engelhart, the Porsche driven by the newcomers from Geyer & Weinig / Schütz Motorsport retained its lead, but soon came in for some unwelcome attention from Mercedes-Benz driver Sebastian Asch. Yet the son of touring car legend Roland Asch pressed to no avail as Engelhart kept his nerve to secure a second ADAC GT Masters win. "I tried to push the Porsche into making an error, but it was unwilling to oblige," said a breathless Asch after crossing the finish line.
Ex-Formula 1 world championship runner up Heinz-Harald Frentzen (44, Neuss, Callaway Competition) and his team mate Andreas Wirth (27, Heidelberg) failed to score any points during the opening race weekend. Frentzen, driving a Corvette, was able to run in third place during the opening phase, but had to retire in the pitlane with engine problems.
Behind the third-placed Corvette duo of Keilwitz and Alessi, who earned their podium with a confident and flawless drive, came Martin and defending champion Dino Lunardi (33, France) in the BMW ALPINA. Fourth place was sufficient to secure Saturday´s winning pair a championship lead that is theirs until at least the next ADAC Masters Weekend in Zandvoort (4th/6th May).

Daniel Keilwitz (#28 Callaway Competition-Corvette Z06.R GT3), 3rd place:

"I'm very happy with the race. We are here taken up again with our last year's Corvette and did not expect to get on the podium. At the start there was a little chaos, and in the meantime we had problems with the air pressure, we were able, however, correct at the pit stop. I'm looking forward to Zandvoort, then we replace with our new car. "