NEWS
Australia: Bathurst 12hr Race Report
The Bathurst 12hrs is shaping up to become one of the big international endurance races. The race (which took place on 10th of February), marked the debut of the Corvette Z06.R GT3 at the legendary Mount Panorama in Australia. Australian GT3 team Trofeo Motorsport entered the event with V8 Supercar veteran Greg Murphy, Former Ferrari F1 driver Ivan Capelli, and team owner Jim Manolios. This year also saw the growth of the race increase significantly from 2012. While there were 27 entries in the 2012 event, this year's race attracted a field of 49. Fan attendance was also up by 3000.

The weekend started off with a setback for the team during Qualifying on saturday. After setting a qualifying time just outside the top five in the opening session, Murphy was on his way back to hand over to team-mates Jim Manolios and Ivan Capelli when he came across the Sherrin BMW 135i in the Dipper. After the BMW made contact (which resulted in a heavy accident for the team), an incredible overnight rebuild saw the Corvette Z06.R make the grid for the start of the event. The man who was behind the wheel during the qualifying incident almost 24 hours earlier - Greg Murphy - lined up on the sixth row of the grid after a single sighting lap. From the drop of the flag he charged, but charged conservatively, moving into the top five before his first stop – in the process, putting the Trofeo car onto the podium for the opening round of AGT.

"What the team did to get the car repaired was amazing.." he admitted. "They worked till 3:00am this morning to do that - there was a lot of work because they wanted it to be right."First session we wanted to take it a bit easier obviously, but the car felt solid and smooth and there wasn't too many issues.

"The Safety Car won that first stint, there wasn't too much question about that. There was some crazy stuff going on - it's quite disappointing how people throw their brains out the window in such a long race. Some of the accidents I've seen on replay were completely avoidable. Everyone needs to take a chill-pill, you cannot win this race in the first half hour. The car's clearly not as quick as the cars looking to put out eights - we're not able to do that and I wouldn't put the car in that position to try and do that, it would be totally unnecessary to even try. Running around where we were I don't think the tyres even came up to the optimum temperature before we were under Safety Car. "It's smooth and consistent, and we've just got to stay out of everyone's accidents."

After a strong opening stint where he moved as far forward as third before pitting, Murphy handed over to former Ferrari-F1 pilot Ivan Capelli, the Italian having recorded just three laps prior to his first laps in anger.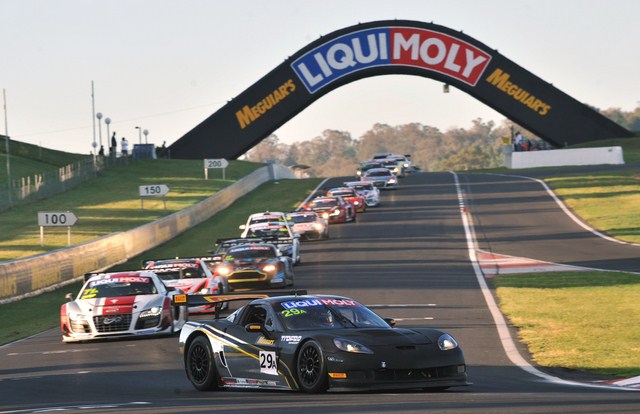 So how did he feel after his first competitive laps on 'the mountain'?

"It's nice but difficult, and obviously very exciting, but you really need a lot of laps to learn how to get the rhythm on top of the mountain. I only had three timed laps in practice because of the problems we had, so I actually entered into the race with basically no experience with the traffic, Safety Cars and so on [laughs], so it was even more difficult, but I got a few laps on my own and got down to a 13.5. "The car has no traction control unfortunately, and no ABS because the electronics are not working - I think as a result of the accident - this is obviously not helping because this car has big, big torque, so in some corners it's crucial not to have the car controlled by the electronics."

Whilst he managed to avoid the bulk of the opening stanza incidents with Murphy starting the race, Capelli watched the event unfold on television and had his own views on why there was so much action on circuit.

"A lot of teams lined up on the grid with good drivers and good cars, and obviously a lot of excitement and pressure and that was pushing people to make mistakes. All up, I'm happy with how I went considering the situation we were in, I just hope I've done enough to be invited back, because I'd really like to spend more time getting to know Mount Panorama."

Holding on to a position inside the top 20, Capelli completed his hour stint and handed over to car-owner Jim Manolios who was forced to contend with a range of issues including alternator failure, gear selection issues, a suspension failure, and ultimately a fuel tank issue which was the final straw, ultimatelyclaiming the car after 127 laps.. the journey was over..

"It would have been fantastic to finish, but apart from that we ticked all the boxes we set out to achieve," Manolios admitted. "We got Greg [Murphy] involved in the team, got Ivan and I miles around the circuit, and put together the logistics to be competitive at a 12-Hour event, so I think as part of our long term program, it really worked out quite well. I cannot say enough about these guys [Trofeo crew], especially when you consider that many of them joined the team just a few weeks ago. It was just phenomenal, the effort they put in till 3:00 o'clock in the morning to put the car back together is just an absolute credit to them.

"There were a few residual issues as a result of the accident. We didn't have ABS, we didn't have traction control, and our replacement gearbox cooler from the US had a leak, so we were forced to run without one, so it wasn't easy, but we've learnt a lot, have a lot of valuable data, and we know what we need when we come back next year. And despite everything we went through, we also recorded the best result ever for Corvette in Australia, by taking third place in the Australian GT Championship presented by Pirelli - not a bad result all things considered!"

This event also doubled as the opening round of the Australian GT Championship presented by Pirelli. The combined result of the event after a time equal to race distance of 1 round, teams competing full time in this championship are awarded championship points. This result, sees Trofeo capture 3rd place in the standings:

Australian GT Championship presented by Pirelli

Rnd#1 - Liqui-Moly Bathurst 12-Hour (50-minutes)

1. Quinn/Quinn/Van Gisbergen (VIP Petfoods Porsche Type 997 GT3-R) - 14-laps
2. Edwards/Bowe/Simonsen/Salo (Il Bello Rosso Ferrari 458 Italia GT3)
3. Manolios/Murphy/Capelli (Chevrolet Corvette Z06.R GT3)
4. Koutsoumidis/McInnes/Middleton/O'Young (Equity-One Audi R8 LMS)
5. McMillan/Richards/Lilley (GB Galvanizing Lamborghini Gallardo LP600)
6. Salmon/Lowndes/Luff (Skwirk.com.au Audi R8 LMS ultra)
7. Weng Sun/Baird/Griffin (Clearwater Racing Ferrari 458 Italia GT3)
8. Slade/Holdsworth/Hackett (Erebus Racing Mercedes Benz AMG SLS GT3)
9. Schneider/Jaeger/Roloff (Erebus Racing Mercedes Benz AMG SLS GT3)
10. Tony Quinn (VIP Petfoods Aston Martin Vantage GT3) - 11-laps

Championship points (after round one of six)

1. Klark Quinn/Shane Van Gisbergen (54 points)
2. Peter Edwards/John Bowe/Allan Simonsen/Mika Salo (50)
3. Jim Manolios/Greg Murphy/Ivan Capelli (37)
4. Dean Koutsoumidis/Andrew McInnes/Simon Middleton/Darryl O'Young (30)
5. Justin McMillan/Steven Richards/Ross Lilley (28)

Trofeo Motorsport is proudly supported by Pirelli, Trofeo Performance, 4D Global, Conect and Trofeo Estate.
More team information at the following links: