NEWS
Callaway Competition clinch 2010 FIA GT3 Drivers Title in Portimão!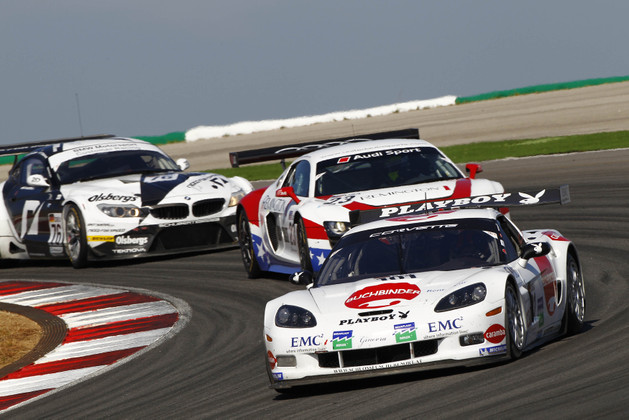 Algarve Portugal – In race nine the the Callaway Competition and Graff Racing Corvettes battled to second and third place finishes. This still gave the Graff Racing Callaway built Corvette a mathmetical chance to win the 2010 Drivers championship. However that opportunity came to a close today when Christian Hohenadel and Daniel Keilwitz took the overall victory. The duo were awarded the 2010 FIA GT3 Drivers Championship with 181 total points. This is their fourth overal victory in what has become a dominant season for the little team from Leingarten Germany.

The true spirit of the FIA GT3 series was put into focus with this Corvette drivers championship. The "Balance of Performance" rules helps keep each competitors performance close to each other. Teams with big budgets and back door factory sponsorship are equalized with this innovative FIA system. It allows small private teams the opportunity to use innovation and passion to win championships. However it was beginning to appear that Corvettes extra penality weight and reduced inlet restrictor was a little to heavy handed. But the FIA adjustments produced good racing and forced the Callaway Team to apply intelligent team strategy to win the championship.
This is exactly what the team did for race ten. It began with Hohenadel starting the #101 Corvette eighth on the grid. The Parisy #16 Corvette started sixteenth. This poor starting position would haunt the French Corvette throughout the race. Hohenadel stayed out of trouble at the start and when the pit window opened he was in ninth position.
Hohenadel dove into the pits for a mandatory driver change. Keliwitz took command of the #101 Corvette and returned to the race in eighth position. Meanwhile Parisy was well down in the order and pitted on lap 20 to hand the Corvette over to Lambotte. By lap 24 Keliwitz was fourth and challenging the third place Audi R8. Suddenly on lap 25 the championship was settled when Lambotte suffered a right rear puncture and slid into the gravel trap out of the race.
Keliwitz had passed the Audi and could have cruised to a third place finish, but no he pushed on! On lap 27 he took second and passed the leading Porsche on lap 28. The Corvette slowly opened up a gap on the Porsche. The happy Callaway Competition crew watched as the 101 Corvette and took the checkered flag to a 6.602 second victory. This is the third FIA championship this team has won since 2007. It is a fitting tribute to how well Callaway Competition has re-engineered crashed Z06 street Corvettes into winning race cars with no factory support. Our hats go off to APP Racing for building reliable LS7 engines that power these amazing cars. Next stop Zolder, how well will the #101 Corvette run with an additional 40 kilos of reward weight? Stay tuned.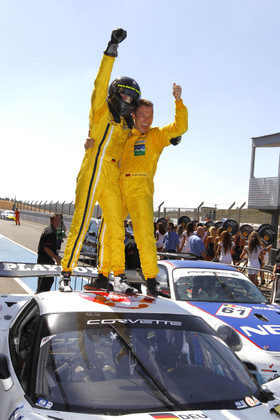 Christian Hohenadel-Nr101 Callaway Competition Corvette Z06R GT3:
"It means a lot to me to be the European Champion. It's the most famous title I've won in my career, so I'm very happy. I'm very proud to drive the car with Daniel, because he did a very good job this year. I think it's very important for the team and everybody. It was very hard this year. It might look easy from outside, but we've worked a lot, we've thought a lot. We have done a lot testing and stuff. I think the whole team, the drivers, everybody has done a very good job. It looks so easy, but it was hard. My goal in the race was to keep going; staying in my position, or losing one or two places didn't matter. There were a few slower cars in front of me, and the pressure came from behind. We did an early pitstop and Daniel did the rest."
Daniel Keilwitz-Nr101 Callaway Competition Corvette Z06R GT3:
"I'm very happy. I can't believe it now that we've won the championship. I'm so happy, as this is the first title of my career. Christian was a good partner this year. He did a very good job, the team did a very good job. We worked hard for this goal and now we've done it. I'm very happy now. The next target will be to try and win the team championship as well. At the beginning I was being really careful, because I knew the French team was behind us, and I knew I only had to finish the race. The team told me on the radio that we were out of the race. Then I began to push and I think I  made it to first position because our tyres weren't as worn out as the others, as we were careful at the beginning with the tyres. I'm very happy with every win."