NEWS
FIA WEC: Sebring 12hr Report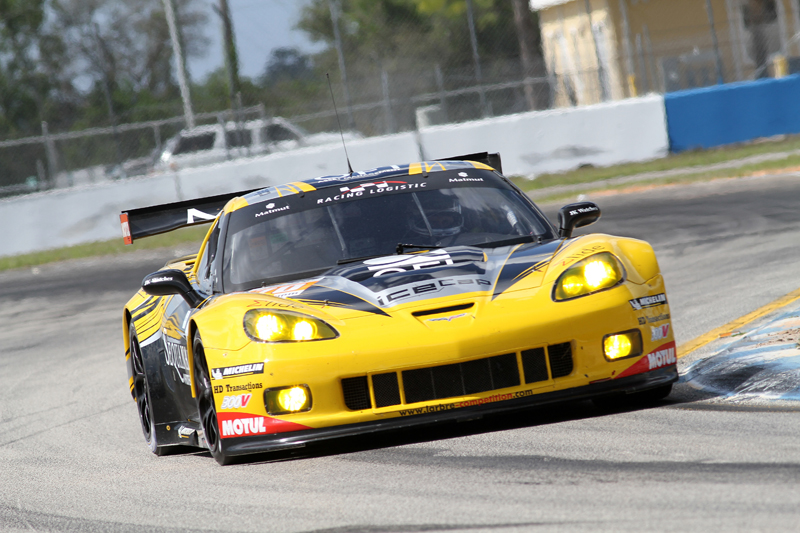 A broken differential just fifteen minutes from the end of the 12 Hours of Sebring, opening round of the FIA World Endurance Championship cost Larbre Competition victory in LM GTE AM. Victory at this classic Florida event has consistently eluded the French team. That long wait appeared to be over however when Pedro Lamy, Patrick Bornhauser and Julien Canal in the #50 Corvette C6.R controlled the race from the front for much of its duration. Starting third in class following a cautious qualifying run, Lamy was quick to demonstrate the car's true pace by dicing with the front-running Krohn Racing Ferrari and Team Felbermayr Proton Porsche before opening up a 20-second lead which both Bornhauser and Canal maintained. With Lamy installed in the car for the final time, victory looked all-but assured as the former F1 driver set about establishing a 30-seconds advantage over the chasing pack before fate intervened. Such was the rate of attrition at Sebring that his retirement with just eight laps remaining still saw the car classified third in class behind the #70 sister machine of Christophe Bouret, Pascal Gibon and Jean-Philippe Belloc. However, the French team still managed a good 'double podium' with second and third places for their Corvettes.
Jack Leconte, Team Owner: "It was a breath-taking race at times between the top three so to go out with a broken differential so close to the finish was disappointing. However, we must take heart from the overall result and that of the #70 car. ...Once the cars have returned to our Val de Vienne premises from America, preparations for round two at Spa will begin. Brazilian driver Fernando Rees will replace Pedro Lamy in the #50 line-up for this race while the #70 crew remains unchanged. Our objective there will be to take top spot in the WEC standings before the Le Mans 24 Hours."
Patrick Bornhauser, #50 Corvette C6.R: "This was our second year racing at Sebring, a circuit that is always amongst the most challenging for car and driver alike. 2012 was no exception! It was also a great personal pleasure to work with Pedro Lamy throughout a week in which the car showed no problems and had been clearly very well prepared. The only incident occurred with just 15 minutes of the race remaining when a broken gearbox dropped us from first to third. Of course, after such a great team effort, it was disappointing to miss out on victory at this famous circuit. We did not make contact with a single car during the race which, considering there were so many entries, was an incredible achievement! At least we still scored a lot of important points which was not the case there last year."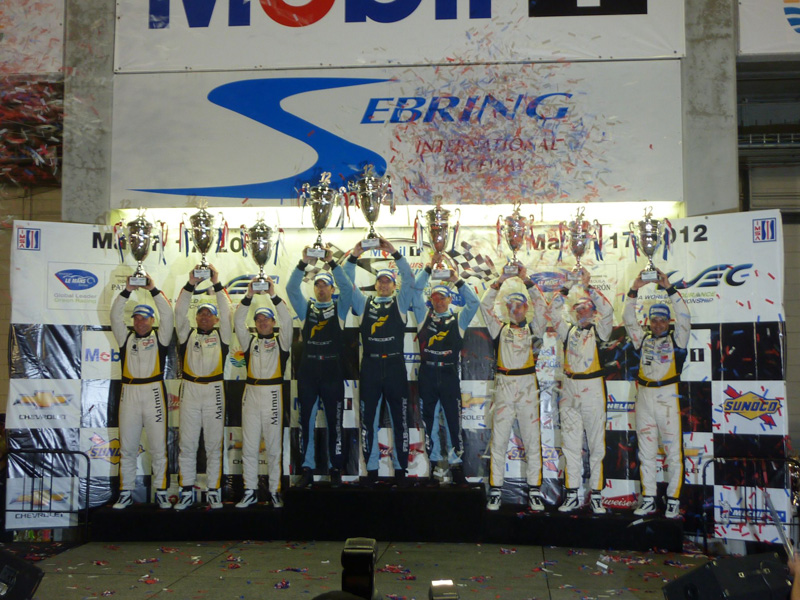 Pedro Lamy, #50 Corvette C6.R: "I was very happy to rejoin Larbre Competition and Jack Leconte. Sebring was the first round of the WEC and, as everyone in the sport knows, it's a place where conditions are extremely tough. Following the team's hard work, it was great to have victory within our reach towards the end of the race. Unfortunately I was also very disappointed to have to retire with eight laps remaining after such a difficult 12 hours. I would like to thank Patrick and Julien for welcoming me, as well as for their performances."
Julien Canal, #50 Corvette C6.R: "Testing at the beginning of the week went well, especially as we found a good set-up for the Sebring layout which is so specific. Teaming up with Pedro has allowed me to evaluate my driving performance and to achieve lap times very close to his! The car helped us remain in the top three and move into first position during the final hour of the race before the mechanical problem cost victory a few minutes from the end. We are disappointed but still at least scored points for finishing third which provides a good platform for the title race!"
Christophe Bourret, #70 Corvette C6.R: "It was a fantastic week during which we mixed with the world's top 50 endurance drivers. Having learnt the track and experienced dealing with others in prototypes and GTs, we decided to keep a low profile in the race. With so many twists and turns we knew that by just crossing the finish line we could score a really good result, and so it proved. Making the podium with second place feels magnificent!"
Pascal Gibon, #70 Corvette C6.R: "It was with much humility and ambition that I arrived at Sebring with the hope of doing well alongside Christophe and Jean-Philippe. The opening WEC round provided a great challenge but to find ourselves in the middle of so many experienced drivers represents an extraordinary adventure and one that began with a second place finish. I must say a big thank you to such a passionate team with whom I expect to achieve further fantastic performances in the future. I cannot wait for the next round in Spa!"
Jean-Philippe Belloc, #70 Corvette C6.R: "For me, although Sebring is the second best endurance race in the world, it is on a par with Le Mans as the most difficult. It's very hot and the circuit is extremely bumpy with the track surface offering little gip. With so many cars entered and only one straight on which to relax slightly, traffic management is totally crazy. It's a case of surviving so, in that context, Christophe, Pascal and I can be very proud! It was our first race in the Corvette and we still have further progress to make. Together with the team we have laid a solid foundation for the 2012 WEC season, which I'm hopeful of building on at Spa. It can't come soon enough!"
The next race for Larbre Competition, is Round 2 of the FIA WEC in Spa, Belgium on the 5th of May