NEWS
Grand Am: Spirit of Daytona secure 5th place in Detroit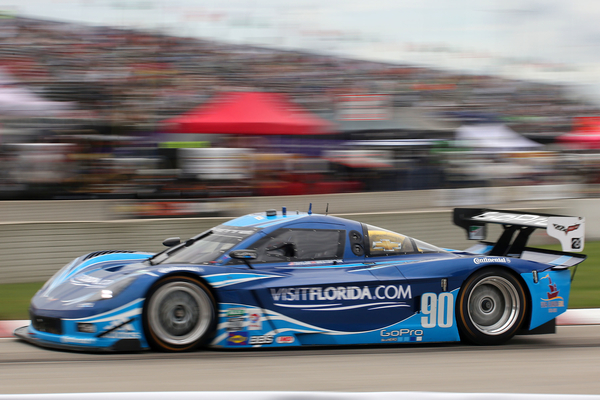 Spirit of Daytona Racing refused to give up on Saturday as the team and drivers Ricky Taylor and Richard Westbrook rebounded from some early setbacks rallying to a fifth place finish in the Chevrolet GRAND-AM 200 at Belle Isle in Detroit. Taylor, who qualified the No. 90 VISITFLORIDA.com Corvette DP fifth on the grid, opened the race from behind the wheel and quickly moved into third place for the opening 20 laps. Typically hard-fought Rolex Series racing saw the young Florida resident suffer contact from behind, costing not only some crucial track position and lap time, but more significantly hindering the handling on the Corvette DP for the remainder of the race.

"I was in the middle of a big battle with everybody, and I wasn't exactly sure who hit me or what, I just saw a nice Corvette emblem in the rear view camera," said Taylor.  "I didn't feel a big hit, but all of a sudden the left rear gave out.  I was really upset with myself after qualifying, but I knew we had a good car and the car was fantastic.  We were moving up.  I felt like as the race was going, everyone was coming back to us and I was quite comfortably keeping pace toward the end there. We were really strong—I felt like our car was very, very good but this didn't help us at all."

But Spirit of Daytona Racing is not a group that gives up, and after a driver change to install Westbrook behind the wheel, the chase was on again. The Englishman, who led this race in 2012, fought his way through from 11th place to take the checkered flag in fifth as the team moved to fifth in the provisional points standings after five rounds run. "I don't know how we finished where we did to be honest," said Westbrook.  "Everything that could go wrong, went wrong.  We have to just move on and we have to come back stronger.  As far as the race is concerned, all we could do was bring it home; the left rear was totally gone in the accident with the Porsche.  Fortunately for us a lot of other cars had misfortunes, so we got some good points, but we don't want to get points like that. We want to fight at the front, and we had no tools to fight."

The 2012 season saw the team experience the highs and lows of wins and non-finishes, but the 2013 season has seen a more consistent series of results. With a strong driver line up, a talented crew behind them, and the strong Corvette DP package, the team is looking for much more than just consistency.  "It could have been a horrible day," said team owner Troy Flis after the early setback.  "But it ended up being not a great day, but an OK day.  We don't like finishing fifth, but we've got to do that some days to win the championship.  I'm happy that the guys pulled together and we got a fifth out of it.  We made some right decisions that kept us in the game, but the car was hurt, so there was nothing we could have done.  All in all it was a decent weekend.  We had a fast car in qualifying.  I think that now in the next few months, we're racing every week and it'll get our team a little more clicking which I think will help us, so I'm excited for the rest of the year."

Spirit of Daytona Racing will return to GRAND-AM Rolex Sports Car Series action in two weeks at Mid-Ohio Sports Car Course June 13-15.