NEWS
Grand Am: Wayne Taylor Velocity Racing "Roar Before the 24" Report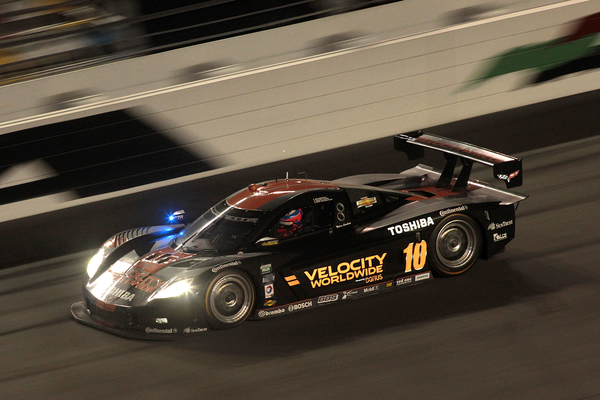 Three days of rigorous testing came to a conclusion Sunday afternoon for the newly christened No. 10 Velocity Worldwide Corvette Dallara DP of Wayne Taylor Racing (WTR) as full-time co-drivers Max Angelelli and Jordan Taylor, joined by reigning IZOD IndyCar Series champion Ryan Hunter-Reay, took turns logging laps in the stunning, black prototype during this weekend's Roar Before the 24 in preparation for the 51st running of the Rolex 24 At Daytona less than three weeks hence.

Angelelli, the veteran Italian who won this event co-driving with team owner and three-time sports car racing champion Wayne Taylor en route to the 2005 GRAND-AM Rolex Sports Car Series championship, clocked the fastest lap of the weekend by the WTR trio with an effort of 1 minute, 43.171 seconds (124.219 mph) around the 3.56-mile, 12-turn Daytona (Fla.) International Speedway road circuit Saturday morning. It was just the 14th-best lap among 59 car-and-driver combinations that took to the track this weekend, but the team left feeling confident in its prospects for the race after successfully running through its checklist of items to be tested for the grueling, 24-hour marathon at month's end.

Jordan Taylor, the 21-year-old younger brother of Ricky Taylor, who Angelelli co-drove with to seven wins the past three seasons, joins WTR for the first time this season after having scored a pair of victories in 44 previous Rolex Series starts with various teams the past two seasons. Hunter-Reay, meanwhile, will be making his seventh consecutive Rolex 24 start with the team he last drove for in 2006 after a dramatic season that saw him clinch the 2012 IndyCar title at the season-ending race at Auto Club Speedway in Fontana, Calif., last October.

Former WTR driver Michael Valiante clocked the fastest lap of all competitors this weekend, a lap of 1:42.058 at 125.576 mph this morning in the No. 6 Ford Riley of the defending race-winning team of Michael Shank Racing. The top six laps were clocked by Ford- or BMW-powered Riley chassis. The fastest Corvette DP was Richard Westbrook in the No. 90 Spirit of Daytona entry, who was seventh-fastest overall with a lap of 1:42.658 at 124.842 mph Sunday morning.



Team Quotes:
Max Angelelli:

"First of all, we announced our new sponsor Velocity Worldwide and, for us, that is major. We're happy, we're proud to be associated with them and we're looking forward to a great season on and off the track. As for this test, I know that everybody is expecting to see the No. 10 Velocity Worldwide Corvette DP on top of the timesheet. But we needed to do some experiments for the 24-hour involving new items and we learned a lot this weekend that will be very, very important for the race. We got the lap times we did with all that taken into consideration. I'm pretty confident that, for a long race, a fast lap time is not what it's all about. Let's see where we will be at the end of 24 hours."


Jordan Taylor:

"There were a few concerns coming in since it was the first official, real test, and I think there was a little more pressure for everyone to do well and perform. I think both Ryan and I coming in as new teammates, and with Max having been here for a while, we all got along well as we seem to have similar feedback on everything, similar driving styles. We improved the car throughout the test and I think, coming back for the race, we've got a comfortable car that should be strong for all 24 hours. In a 24-hour race, you're never going to have a clean lap. At this test, you've got all 60 cars on the track at once, so it's really difficult to get a clean lap here this weekend, too. Outright lap time might never be shown at the test, or even the middle of the race, so I guess we'll see who's got the real speed when it comes to qualifying on Thursday afternoon come race weekend."



Ryan Hunter-Reay:

"Wayne Taylor Racing is one of the best teams in the business. I've had the privilege of working with this team in the past. I know quite a few guys on the team. This was my first time in the Corvette Dallara DP and I was very impressed with its performance. I've got big shoes to fill, a lot to live up to driving for this team because it performs at such a high standard. Winning the IndyCar championship with Chevrolet and then coming here and being in one of their lead cars for the Daytona 24-hour, I'm just honored to be a Team Chevy driver. That means a lot to me and it's always been one of my goals to do this race for this manufacturer. Hopefully, we can go get them a win this time. This test is more about a checklist than outright speed and we were methodical about getting through some very fundamental changes, working through routine operations with each driver, driver changes, where the switches are, etc. This is less about going fast than it is about everybody executing together and doing their job without making mistakes. This team is certainly proven in that regard and I am looking forward to coming back here in a few weeks."


Wayne Taylor, team owner:

"I feel very good about the car, the team, the drivers. I think we've got a good car. Obviously, there are a lot of people playing games with power but I'm sure that'll be resolved. I can't say enough in the way of thanks to Velocity Worldwide for coming on board, for my continued support from Toshiba, and especially Mark Kent and everybody from General Motors, Chevrolet, Pratt and Miller, Dallara. I'm going away with a very good feeling."
Teams return to Daytona Jan. 24 for Rolex 24 practice and qualifying. Race time is 3:30 p.m. EST Saturday, Jan. 26