NEWS
Le Mans: 2012 Preview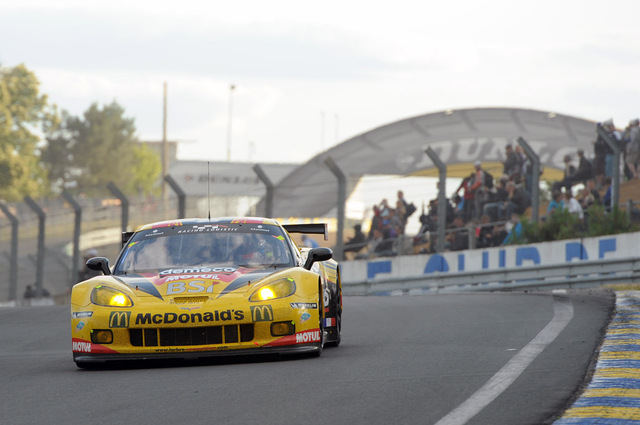 To worldwide road racing aficionados, Le Mans is a mystical place.  The annual event dates back to 1923 when the Automobile Club of the Sarthe held their first race. Each summer the city transforms as the Les Vingt Quatre Heures du Mans or the 24 Hours of Le Mans swell the cities population to over 500,000. Spectators pack themselves into the famous 8.48-mile circuit. To win or even finish, competitors must run flat out, be trouble free and minimize pit visits. The Automobile Club de l'Quest (Automobile Club of the West) is very strict about who races at Le Mans.


Only the top sports cars of the world are invited to participate in this race.  Le Mans practice and qualifying sessions are limited, because a portion of the racecourse is a main public highway and it can only be closed for a limited time.  Each year the organizers close highway N138 (the Mulsanne straight) and open the track for practice and qualifying.

In 1999 General Motors introduced their Corvette Racing program. They won the GT category six times in 2001, 2002, 2004, 2005, 2006 and 2009. They also have finished each of the ten Le Mans races they have entered, a remarkable achievement. In 2011, the team captured their first win in the GTE-Pro category. This year, Four Corvettes will compete at the 80th Le Mans 24-Hour race with hopes to capture their Eighth GT victory. Pratt & Miller Racing will enter two factory C6R Corvettes in the LM GTE Pro category to hold up Chevrolets honor.

Two ex-Pratt & Miller Corvettes will compete in the LM GTE Am (Amateur) category by Larbre Competition from France. Last year, Jack Lacontes French squad captured the GTE-AM victory in their nr50 C6R. This year the cars will be piloted again by previous winners at La Sarthe. 2010/2011 winner and local man, Julien Canal will be paired up with Portuguese driver Pedro Lamy. Lamy has a long history with the team, and is a former driver for Peugeots LMP squad. The third driver is Patrick Bornhauser. Bornhauser is a multiple FFSA GT champion (winning titles in 2004 and 2005 with a Viper, 2008 with a Larbre Saleen, 2010 in a Larbre Porsche, and 2011 in a Larbre Corvette). The second C6R from Larbre Competition will field drivers Pascal Gibon, Christophe Bourret, and Jean-Philippe Belloc.

This years test day helped to finalize the preparation of both cars. The team is using Michelin tires, a new brake system that has been validated and a revised gearbox. The gearbox has perfectly staged gears to allow the best top speed on the long straights. The new 2012 regulations have restricted the GTE engines that exceeded 320 km two years ago. The best top speed now for the Larbre Corvette was No. 50 Corvette, which was clocked at 286.8 km/h during Sunday afternoons test session. Larbre Competition have worked on their cars at the Chateau D'Artigny Montbazon to correctly prepare the cars and six drivers for the upcoming 24 hour race. With competitive cars, and a proven driver pairing, the No. 50 Corvette C6R has a nice role to play in the category this weekend.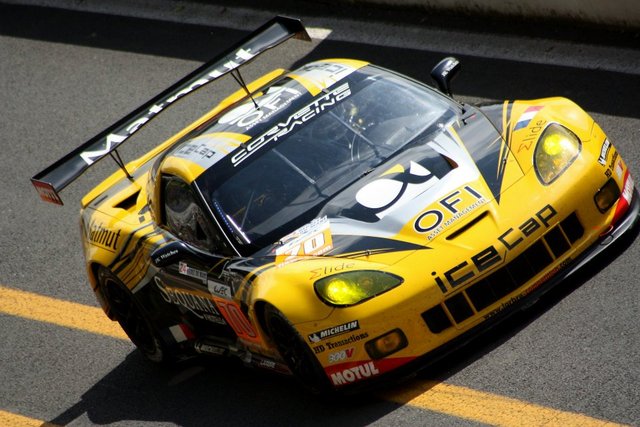 Driver Quotes:

Jack Leconte, Team Owner: "Fortunately, the weather that threatened the test day held off and gave us a dry race track for six hours. This allowed us to test and define our choice of tires, aerodynamic balance and push the brake system to its maximum. All of the elements seem to be ready for 24 Hours. Cohesion of the team grows stronger every race and every driver took an immense pleasure to drive on this unique 13 kms track. We are prepared for our competitors in the LMGTE category. It will be quite a race competing with brands such as Ferrari, Porsche and Aston Martin. Our supporters in the Sarthe await came for many of the Pre-Test activities to support our efforts. They will continue to support us during the race on 16 and 17 June. See you Sunday, June 10, Republic Square at 17:00 for weighing cars No.50 and 70. "

Patrick Bornhauser, Nr. 50 Corvette C6.R: "I am very happy with my performance on the pre-test day. The car was very well prepared and settled, and during the early laps we had the fastest times in GTE Am. I am very happy with my times and I think I as rapid as Julian, despite having only 20 laps in the car. For me this is fully satisfying."

Julien Canal, Nr.50 Corvette C6.R: "This first day of testing allowed us to learn, this legendary Le Mans circuit. We were able to drive with the various settings and my impressions of the C6.R are very positive. The Corvette is fun to drive while being efficient, which is very encouraging for future events. I will stay focused because the Le Mans 24 Hour race is often full of surprises. We share our experience within the team and this allows us to prepare the best possible strategy for the race. "

Pedro Lamy, Nr.50 Corvette C6.R: "I am very happy to be back in the family of Larbre Competition and race once more on the 24 Hours circuit. I had the pleasure to start the World Endurance Championship (WEC) with the team at Sebring alongside Jack Leconte and my teammates. I had to pick all my marks on the track when I was driving the Corvette C6 R. The settings have proved successful and the team very quickly made ??a few adjustments, which made us quicker at the end of the day. We had the second fastest time. My friends Julien and Patrick also drove very well and we are a very homogeneous team. The next time on the track will take place Wednesday and Thursday before the start of this legendary race that I would love to win. "

Pascal Gibon, Nr.70 Corvette C6.R: "It is always a bit special to come back to this track. The day does not go as planned in terms of driving, The afternoon was better but we still have much work to do and I will finish my preparation during the free practice sessions on Wednesday."

Christophe Bourret, Nr.70 Corvette C6.R: "Sunday morning was truncated by small mechanical problems. The afternoon started out with a better set of tires that Jean-Philippe was able to take advantage of. For my part, I tried to put in the best rate possible and I was not too far off the pace."

Jean-Philippe Belloc, nr.70 Corvette C6.R: "We're a little frustrated with the progress of the test day: it was a very dirty track, with intermittent showers, and temperatures were rapidly changing. Off course excursions by competitors interrupted the session. We also had a few minor technical problems and did not have enough time to correct them. But Christophe Pascal, myself and the car were performing well. It's up to us and Larbre, to ensure that this performance lasts 24 hours."
Practice and qualifying will begin June 13th and starts with a 4-8 pm practice and end with a 10-12 pm qualifying session.  On Thursday June 9 two qualifying sessions are scheduled: 7-9 pm and 10-12 pm.  On Friday June 15th, the annual Parade des Pilots will be held from 6-7 pm in downtown Le Mans. Saturday June 16th, a race warm-up is scheduled for 9-9:45am and the green flag will fall at 3 pm. All times are local.
Corvette Motorsport will offer live coverage throughout the week and weekend via our Twitter feed and live dedicated Le Mans Coverage page.