NEWS
Le Mans: Cooper MacNeil Larbre Test Report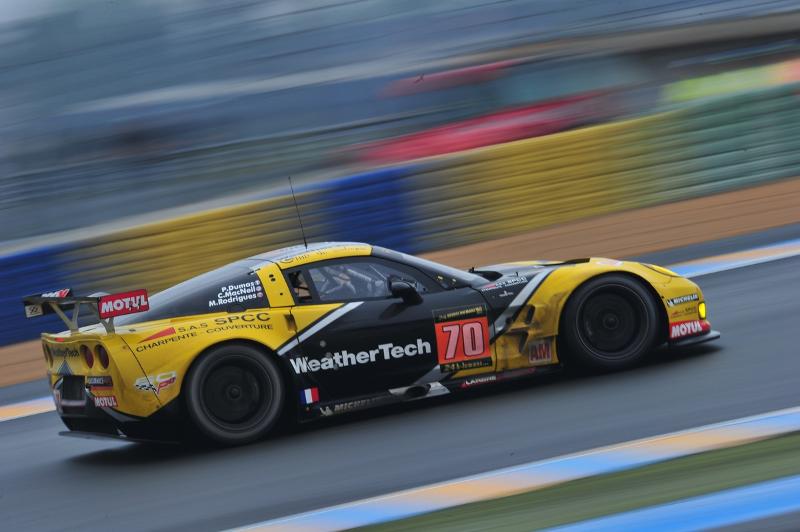 Photo (c) Vision Sport Agency for Larbre Competition
Cooper MacNeil made his first laps behind the wheel of the Larbre Competition No. 70 WeatherTech/Chevrolet Corvette C6.R during last weekends official Test Day in preparation for the 24 Hours of Le Mans to run June 22-23 at Circuit de la Sarthe. The 20-year-old University of Colorado at Boulder college student got behind the wheel of the WeatherTech Corvette in a rainstorm on Sunday morning.

"My first laps at Le Mans were in the wet, of course," MacNeil said. "Jason Statham said it perfectly: "it always rains at Le Mans." My first stint in the car went well as I was just trying to learn the track. I was on a full wet setup with Michelin rain tires. The track was quite slick as most of it is run on public roads that are covered in a year's worth of diesel and oil. The rain amplifies the issue, but as more cars ran the grip began to improve."

As the day went on the weather changed and the eight mile Le Mans Circuit began to dry. "My next stint started out on intermediate tires as the track was drying," he continued. "The problem was that on the other side of the track, four miles away, there was a heavy down pour. The intermediate tires made the car very difficult to drive in the heavy rain and I slid straight thru a chicane sideways, but was able to catch it and continue on with the lap."

"I knew I had to complete the 10 mandatory laps for rookies, so I wasn't trying to push the car all that hard," MacNeil explained. "The afternoon session was much better as the track was pretty much dry towards the end of the session. I was then able to get a good idea of how quick this place really is on a set of perfect Michelin slicks. I can't wait until the race in two weeks!"

MacNeil and his teammates Philippe Dumas and Manu Rodrigueswill travel this week to the Bordeaux region of France with the Larbre Competition team for intense team building and strategy for the twice-around-the-clock race.

The 24 hours of Le Mans race will run June 22-23 at Circuit de la Sarthe in Le Mans, France.