NEWS
VLN: Team Journal - Richard Westbrook Nurburgring 24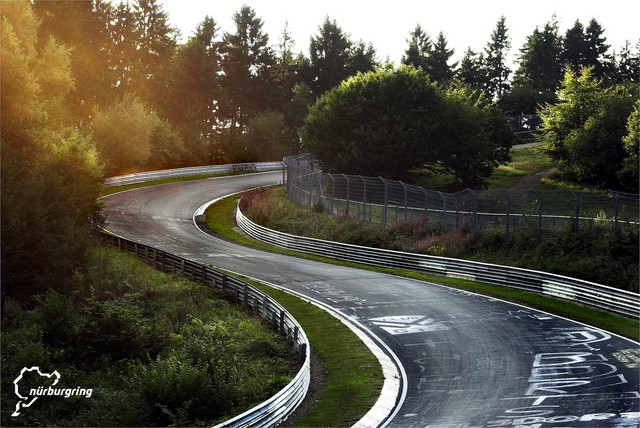 Richard Westbrook has extensive experience driving racing cars in Europe. He is the 2009 FIA GT2 Drivers Champion (driving for Porsche) and today he is one of the Corvette factory team drivers. Richard recently drove a Callaway Competition Corvette Z06.R GT3 for the Haribo Candy entry. He teamed up with Jan Magnussen, Tommy Milner, and Daniel Keliwitz. Richard shared his experience with Corvette Motorsport, of what it was like competing in the recent 40th running of the 24 Hours of the Nurburgring:

The Nurburgring is without doubt the toughest 24 hour race on this planet. The obstacles are relentless yet incredibly it is always a "sprint" race as there are no safety cars to get back lost time. If you have any issues or delays during the race, the only way to get the time back is by being fast, that is the only strategy.

Coming into the weekend we were all very encouraged by Callaway's great performance at Zandvoort one week earlier. Being a new car for 2012 it was great to see the car so competitive and also to hear our team mate, Daniel's positive feedback. The Nurburgring north loop however is a very different place so it is fair to say our (Tommy,Jan and myself)  expectations were in check. Prior to the race weekend our time in the car had been very limited and there were many new parts and modifications on the car so we were somewhat heading into the unknown.

For practice it was important we quickly find a set up that is to everyone's liking. It is also important to find a set up which is comfortable and forgiving over all the undulations and jumps of the north loop. Our competitors, Porsche, Audi, Mercedes all have tried and tested variations in their car for this track so we were certainly playing catch up.  Because you have such high speed corners over crests such as Flugplatz, the set up is much different compared to any other track.  There are three points of the circuit where we "take off" so getting the car settled in these areas was a focus.  Our race engineer, Mike Gramke found a really good solution on the dampers, particularly the bump rubbers which really helped the car and gave the driver a lot of confidence over the jumps and high compression arrears like Fuchsrohre and Pflanzgarten.

Expectations were starting to creep up as the week went on, the car was feeling really drive able, particularly for a 24 and the reliability issues we were afraid of from being in a brand new car hadn't showed. Tommy qualified the car in an excellent 18 th but he could of gone better had he completed another lap.  Unfortunately he had an issue with a wheel nut on this second lap which he was already quicker on, had he completed this lap a top ten starting position was a cert.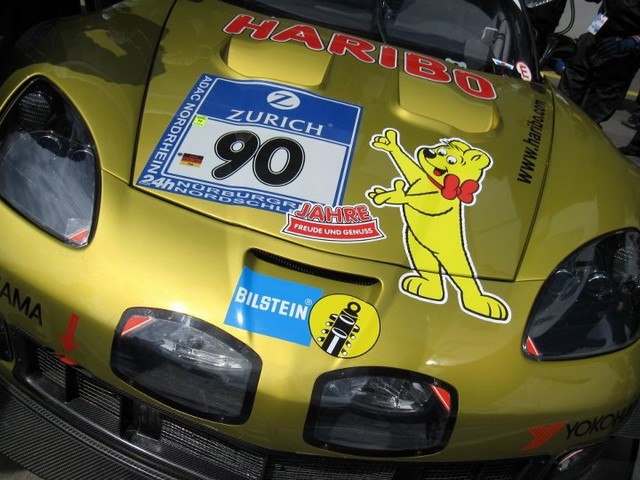 The Haribo car has been a big hit with the fans over the years in Germany and this year, driving the 90th anniversary golden Corvette felt special. Lining up on the grid at the 24 is always unique here as they let everybody onto the grid and is was great to see our car so popular with the fans.

I started the race and we decided before, that we would see how the tyres perform before we make a decision on how many laps we would do in the first stint. I made a good start and the car felt terrific. By lap 4 we were up to 9 th and catching the leaders, it was very clear we had an excellent car, good set up and strong motor. Coming up to Kesselchen on the 5th lap I felt the rear right tyre go down and as I limped back to the pits the tyre tore up and caused a lot of damage on the bodywork.   Even worse it ripped some wires out of the battery and without any power I was stranded on Dottinger-Hohe. We eventually got the car back to the pits where the crew did an absolutely phenomenal job of getting everything repaired.

We had lost a lot of time however so our chances were over after only 4 laps. Haribo were asked if they wanted to pull the car which was met with an instant "no". They wanted to show the fans that we never give up and that is exactly what we did for the next 22 hours. Consistently for the remainder of the race we set fastest laps and were one of the quickest cars on the track in every condition.

It's always a case of "what if" in such a race but the Callaway Competition Corvette clearly proved to be one of the most competitive and reliable cars out there. Had the tyre not exploded we were facing a fight for victory.

So a bitter sweet race all in all but it was great working with Daniel, Tommy and Jan. Tommy loves this track and attacked every lap, it's great working with him and I'm looking forward to a good Le Mans with him next month. Jan was the only driver here who hadn't driven a racing car around Nurburgring before but during the race he hit the sweet spot and his lap times were phenomenal. I didn't realize before the race that Daniel had come from the mini challenge which is a bit different to the Corvette!  For a young guy he has a really good approach, he is bloody quick and has a big future, no question. He never moans, is happy to drive any set up, no nonsense and a pleasure to work with. As for the crew I feel we have to come back next year to fetch them a result their hard work deserves. They are a great bunch and seeing how much it hurt them makes us all the more determined to come back.


A big thanks to Ernst Woehr, Mike Gramke, all at Haribo, and the whole team at Callaway plus my team mates.

See you next year!
-Richard
For more information on Richard, please visit the following links: